A Guide to Penile Enlargement Surgery  – Why? There are many men out there who are embarrassed and/or self-concious about the size of their penis to the point that they don't want to change in the locker room and they are apprehensive about not being able to please a sexual partner.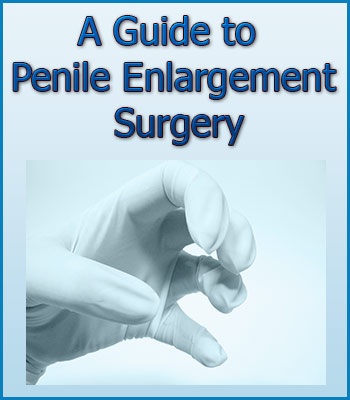 There is a very strong likelihood that men with these concerns do not have a particularly small penis, but no amount of reassurance will convince them of that which is why so many of them have considered penile enlargement surgery to and length and/or girth to their penis.
However,
male penile enlargement surgery is a relatively untested procedure and there have been no clinical studies involving it.
This means that there is a distinct lack of information readily available about penis enlargement surgeries.
With that in mind,
we have created this guide to penis enlargement in order to answer all of those questions that you have been too afraid to ask.
Penile Enlargement Surgery Techniques
When it comes to penile enlargement surgery techniques, it is important to differentiate between what sort of enlargement is desired. There are surgical procedures which are intended to achieve additional length and others to increase the circumference, or girth, of the penis.
At present, both of these penile enlargement surgery techniques are considered to be experimental surgery because there is a lack of data available about the effectiveness and the associated risks.
Let's take a brief look at the two different surgical techniques.
Penis Lengthening Surgery – the most commonly used technique for lengthening the penis surgically involves cutting the suspensory ligament and then performing some plastic surgery to allow the skin to accommodate the additional length. Since the suspensory ligament is what makes an erect penis 'stand up', after surgery the patient's erection is likely to point downwards.
Penile Girth Enhancement Surgery – if the desired result is added girth rather than length then there are two commonly used surgical techniques used. The first involves using liposuction to remove fat from the abdomen or thighs and then injecting it under the skin of the penile shaft. However, the results may only be temporary as the fat is eventually reabsorbed by the body. The second technique used is to graft skin and fat from the buttocks onto the penile shaft. The results with this technique are said to last longer, although data is limited.
How Much Does Penile Enlargement Surgery Cost?
One of the most commonly asked questions on this topic is of course, 'how much does penile enlargement surgery cost?' There really isn't a definitive answer that can be given because penile enlargement surgery cost can vary greatly not just from one surgeon to the next, but also depending on where you are located.
For example,
the average cost for penile enlargement surgery in the United Kingdom is between £3,500 and £5,000 (That's $5,100 to $7,300 USD),
but in the USA a realistic penile enlargement surgery price might be anything from $6,000 to $15,000.
As one of the most popular places for penis enlargement surgery Germany has an average cost for penile enlargement surgery of around EUR 9,600 (approximately $10,100 USD) for a combined lengthening and girth enhancement.
As you can see, penile enlargement surgery cost does vary a great deal so if you do want to want to go ahead with one of these procedures then you are going to have to spend some time researching the various clinics and doctors in order to find a surgeon who fits in with your budget while still offering a high standard of care.
How Does Penile Enlargement Surgery Work?
We have already offered a brief overview of what is involved with the different penile enlargement surgery options, but let's take a closer look at how does penile enlargement surgery work?
Penis Enlargement Surgeries to Lengthen The Penis
As discussed above, the surgical technique for lengthening the penis begins with cutting the suspensory ligament. This ligament is what suspends the penis from the pubic bone and cutting it is claimed to add up to one inch in length.
However,
it is important to note, that this length is typically only apparent when the penis is flaccid. Only in very rare cases will the additional length also be apparent when the penis is erect.
This technique works because when the suspensory ligament is cut, the part of the penis that usually lies behind the ligament is able to become visible.
The downside of this technique is that the suspensory ligament is also necessary to hold the erect penis upright, so after surgery it is likely that the erection is going to point downwards to the floor.
Penis Enlargement Surgeries to Add Girth to The Penis
The most common technique for adding girth is the graft technique because it is allegedly to more permanent solution.
The graft material is wrapped around the shaft of the penis and will result in it being thicker both when flaccid and when erect. This particular procedure results in large amounts of swelling which can last for several months after the surgery is performed.
Additional Penis Enlargement Surgeries
Every man is different and aside from these common penis enlargement surgeries, there are other procedures that can be used to help a 'buried penis' to emerge.
These include public liposuction, a pubic lift or scrotal surgery.
These work on uncovering parts of the penis that may be 'buried' or hidden below fat deposits in the pubic area or an oddly positioned scrotum.
These penis enlargement surgeries work by uncovering what is already there and can be relatively effective, adding between 0.5 and 1.5 inches in length in some cases, although there is not a great deal of documentation on these claims.
Penile Enlargement Implant Surgery –
The other technique
that we mentioned earlier as an option for enhancing the girth of the penis is penile enlargement implant surgery, also known as a dermal implant. This technique is primarily for enhancing the girth, but it can also offer small gains in terms of length.
This particular technique is fairly rare and it involves taking fat from other areas of the body – commonly the thighs and abdomen – and transplanting them into the penis.
Many surgeons avoid this technique because it can be difficult to distribute the implanted fat cells evenly which can result in clumping. This makes the penis appear lumpy. There is also the issue that the head of the penis cannot be enlarged, only the shaft so the result can look a little odd!
Penile Enlargement Plastic Surgery
Often these surgeries also include some degree of penile enlargement plastic surgery.
In the case of penis lengthening, usually additional skin must be grafted to accommodate the additional length and of course the surgery for enhancing girth could be considered plastic surgery in itself due to the nature of the graft wrapping around the shaft.
As discussed previously there are also other procedures that may be carried out including liposuction and scrotal lifts to complete the overall procedure.
Penile Enlargement Surgery Review
So, does penile enlargement surgery actually work?
In truth, it is very difficult to say for sure one way or the other. There has been very little clinical research into the success of penile enlargement surgery and many of the statistics are collated from having patients measure themselves rather than through a clinical study.
Depending on which of the various penile enlargement surgery techniques is used, the results may only be temporary and evidence suggests that the end result is going to be a gain of less than one inch.
In short, penis enlargement surgery is an expensive and potentially risky procedure which may yield disappointing results. The majority of people who are seriously considering male penile enlargement surgery are likely to be looking for more dramatic results and will therefore be somewhat disappointed to gain only a half inch.
The same results have been reported using pumps, extenders and daily penis enlargement exercises. Overall, unless you have some kind of physical defect that you are looking to correct, penile enlargement surgery probably is best left as a last resort when all other attempts to gain length and/or girth have failed.
Penile Enlargement Surgery Around The World
When is comes to penis enlargement surgery Germany could be considered the world leader. Statistics suggest that in 2014 alone, 2786 penis enlargement surgeries took place in Germany which accounts for about 18% of all 15,414 penis enlargement surgeries performed worldwide in the same year.
That equates to around 8 in every 100,000 adult males living in Germany undergoing penile enlargement surgery! Of course, there is nothing to suggest that all of those people were actually German men, the figure simply relates to the number of surgeries performed in the country.
Given the expense of penis enlargement surgeries elsewhere in the world it is not infeasible to consider that many men may have chosen to travel to Germany for their penis enlargement.
For example,
penile enlargement surgery in Texas could cost up to $15,000 for lengthening only while for penile enlargement surgery Germany has an average cost of $10,000 for a combined lengthening and girth enhancement.
The German Centre for Urology & Phalloplasty Surgery is considered one of the leaders in male penile enlargement surgery and have performed well over 6,000 surgeries boasting result of up to 2.4 inch gains in length and 1.2 inch increases in girth.
Thanks to the growing popularity of penis enlargement surgery:
UK plastic surgery clinics are now seeing more and more male patients. One of the most prominent clinics in the whole of the UK is the London Centre for Aesthetic Surgery which is owned and operated by twin plastic surgeons Roberto & Maurizio Viel.
The brothers say that penis enlargement surgeries account for around half of their work, bringing in around one million pounds every year. Roberto Viel, who runs the London branch of the clinic while his brother runs the Dubai branch, says that in 10 years he has performed an estimated 3000 penile enlargement surgeries.
It is very much a niche technique and none of the 230 surgeons represented by the British Association of Aesthetic Plastic Surgeons (BAAPS), which accounts for about 40% of the plastic surgeons in the UK, offer penis enlargement surgery options.
It is not just the UK which is seeing a rise in the number of men seeking penis enlargement surgery.
Plastic surgeons in the USA are also seeing much more interest in the procedure than they have in previous years. The surgery is more expensive in the USA compared to Germany and the UK, but there does seem to be a larger number of surgeons who are willing to perform the operation.
In fact,
the USA is the home of The American Academy of Phalloplasty Surgeons which has members from all over the world and can be seen as a mark of a well qualified and highly skilled surgeon in the field of penile enlargement surgery. If you are looking for penis enlargement surgery Los Angeles seems like a good place to start given that it is known as a mecca for all manner of cosmetic procedures.
It is also home to one of America's most prolific phalloplasty surgeons Dr. Brian Rosenthal of the SoCal Phalloplasty clinic. He is actually credited as one of the pioneering surgeons in the dermal graft technique for girth enhancement. His previous clinic also offers penis enlargement surgery (Beverly Hills Surgical).
There are also specialists of this caliber to be found in other cities around the United States including the following :
For penile enlargement surgery Houston locals are in safe hands at the Texas Phalloplasty Institute where Dr. Robert J. Capriotti is one of the pioneers of laser surgery and was one of the first surgeons to perform a dermal graft with the patients ow body fat.
When it comes to penile enlargement surgery New York residents are pretty spoiled for choice as there are a number of highly skilled phalloplasty surgeons in the surrounding area including Allure Plastic Surgery, Gary J. Alter, M.D. and Associates in Plastic Surgery.
There plenty of buzz surrounding penile enlargement surgery Florida recently when a doctor in Miami pioneered a non-surgical procedure involving injecting silicone or artefill which is more commonly used to fill wrinkles! However, for more traditional penile enlargement surgery Miami residents will also find plenty of reputable surgeons near by.
Mark Solomon claims that when it comes to penile enlargement surgery Philadelphia should be considered the capital. He performs around 3 penis enlargements every week which is actually less than the number performed in the British and German clinics, but it could very well be one of the more popular clinics in the USA.
When it comes to penile enlargement surgery Chicago is sort of lacking in availability. One of the few clinics to offer the procedure is Immersive Medical, so local residents may need to look further afield if they are not comfortable with that particular clinic.
Hopefully, this guide has given you some insight into the world of penis enlargement surgery and answered some of your questions. Penis enlargement surgery is not something to be entered into lightly, so be sure to do as much research as you can before committing to the procedure.